Bath Guide
Pick a Size
Single vs. Double
Choose Your Color
Pick Your Type
Identify Your Style
Go Premium
What's Included?
Complete the Look
Want a little inspiration before diving into the details?
Relaxed and simple or elegant and sophisticated, make your vanity the focal point of your redo by choosing one that fits your space and your style. From size and color to premium features and more, our eight-step bathroom vanity buying guide will walk you through everything you need to know before you "add to cart."
Want some inspiration before diving into the details?
Rule #1 for any remodeling project: measure. (Spoiler alert: rule #2 is…measure again!) When calculating how much space you have to work with, don't forget about the door clearance—including your shower—so vanity cabinets and drawers can open freely without hitting any doors, mirrors, other cabinets—you get it.
Next, think about your ideal storage and countertop scenario. Is the bathroom primarily for guests or will it be used as a get-ready space? Do you want to hide your toiletries or display them for easy access? Once you know all this you'll be well on your way to choosing the right-sized bathroom vanity.
Pro tip: Vanity sizes are identified by width, but you can get all three dimensions by looking at the product specs.
Small Vanities (18-36 inches)
Ideal for powder rooms and narrow spaces, these small-but-mighty vanities can pack a surprising amount of storage into a compact space. The most common widths for these petite workhorses are 24 inches, 30 inches, and 36 inches.
Medium Vanities (30-60 inches)
Consider this the "Goldilocks" of vanities—jussst right for a kid's bath, guest bath, or mid-sized primary suite. There are a lot of options in this range (you'll see 42 inches, 48 inches, and 60 inches most often), with both single and double sinks. More on that in the next step!
Large Vanities (60+ inches)
Go big for primary suites or guest baths where you have a lot of square footage to work with. We're talking 60 inches, 72 inches, 80 inches and even larger. These will give you plenty of space for all your bathroom essentials, up top and down below.
If you're sharing a bathroom, and have enough room to work with, you may want to double down on two sinks—think primary suite or jack-and-jill bathroom. You'll sacrifice a bit of counter space, but think of what you'll gain in personal space!
Powder rooms and tight quarters usually call for one sink. Or—back to a shared space—two single vanities might be the way to go.
From dark, rustic brown to high-gloss white, everyone knows color choices set the mood and reflect your style. When choosing a bathroom vanity color, think about how it fits into the overall look and what feeling you want to evoke.
White is the most popular color for bathroom vanities, and it's easy to see why. White is clean, classic, and versatile, and it works well with just about any style. However, if you're looking for something a little different, blue, brown, green, or gray can also be beautiful choices. Blue is perfect for creating a calming oasis in your bathroom, while brown can add a warm and inviting touch. If you want to make a bold statement, green or gray can be stunning options.
Freestanding or floating? That is the question. Freestanding vanities, which are most common, sit directly on the floor with a solid base or built-in legs. The floating variety (also called "wall mounted") is affixed directly to the wall, hovering above the floor. This modern mounting is a great pick for smaller bathrooms to give the illusion of more space.
Corner vanities also make efficient use of tight quarters—just be sure the adjoining walls come together at a perfect 90-degree angle.
Pro tip: Pick a vanity with a top so you don't need to choose (and buy and assemble) a separate counter.
5. Identify Your Style
Most bathroom remodels include a style update (see ya, pink formica!). Not sure which direction to go? We'll guide you through some popular options.
Contemporary
Contemporary design reflects what's current, which means it's constantly evolving. Neutral colors, rounded edges, and thoughtful (yet minimal) design elements are hallmarks of today's contemporary style.
Modern
Similar to contemporary but distinct in its own way, modern design is rooted in minimalism with clean lines and monochromatic colors. If sleek and simple sounds like a peaceful dream, a modern vanity might be the way to go.
Transitional
Extremely versatile, transitional vanities combine traditional and modern designs for a look that's both fresh and timeless. Blending a classic silhouette in a calming color with modern hardware, for example, will give your bathroom a soothing vibe that never feels outdated.
Farmhouse
Cozy, rustic, natural, unfussy…these are just a few characteristics of the farmhouse vanity. Its throwback to simpler times shows up in distressed wood finishes, hand-hewn accents, and large apron sinks. The result? A warm and welcoming oasis where everyone feels at home.
Midcentury
Born from 20th century modernism, midcentury vanities favor simple forms that are highly functional. This retro style doesn't shy away from color, with palettes ranging from muted tones to vibrant hues. It also incorporates natural elements like wood, glass, and stone with synthetic materials to achieve its iconic look.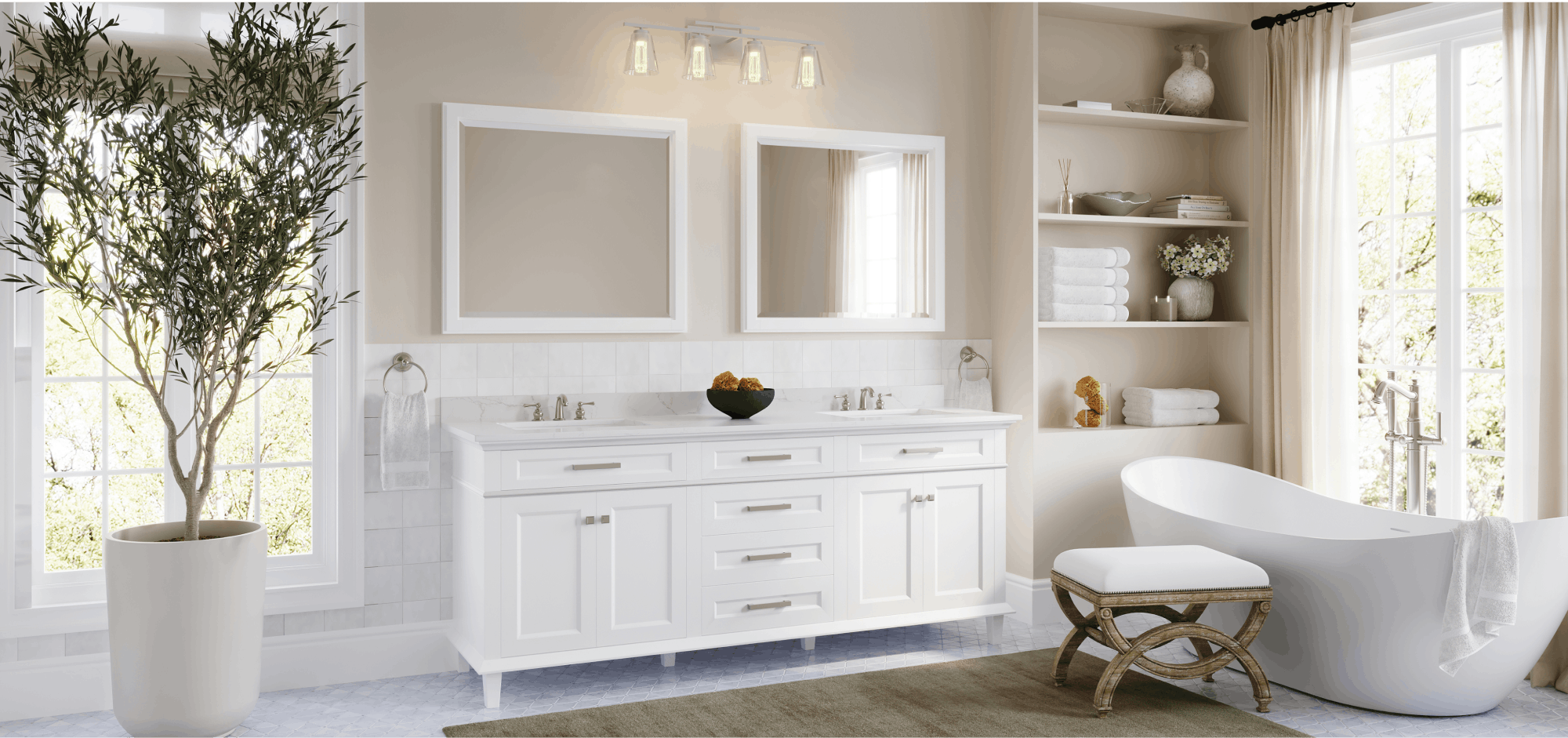 Beauty is more than skin deep so here's a list of our favorite upgrades, from top to bottom, inside and out.
Base Material
Wood is by far the most common base material, but not all wood is created equal. Solid wood vanities, particularly oak or walnut, are higher-end options made from—you guessed it—natural wood. Its strength and beauty make it a premium choice that will last for years.
By contrast, MDF (medium-density fiberboard) is a more affordable option, engineered from composite wood pieces and fiber for durability.
Dovetail Drawers
Built for strength, dovetail drawers use an interlocking joint at each corner to fuse the sides together. The unmistakable puzzle-like design tells you it's a high-end drawer that can handle heavy use…day after day, year after year.
Soft-Close
Designed to slow its roll at the very end, soft-close doors and drawers not only protect the vanity from damage (and your fingers from pinching), its slam-resistant technology is whisper quiet so you can use your vanity in the wee hours without waking a soul.
Concealed Hinges
Sometimes hardware accentuates a vanity; other times you'd rather hide it. Concealed hinges disappear as soon as you close the cabinet door, providing a clean aesthetic that doesn't interfere with the design. They're also self-closing, quiet, and adjustable, making them the gold standard in hinge hardware (yes, that's a thing).
Built-in Legs
When you're looking for a freestanding, furniture-like vanity, opt for built-in legs. Straight and simple or carved and curvy, legs add that finishing touch and long-lasting support. Bonus: some have an open shelf at the bottom for rolled towels and handwoven baskets.
Paint Finish
When choosing color over natural wood tones, the paint finish will tell you how much light it reflects. Because bathrooms are humid, satin is as matte as you'll typically see. Semi-gloss is shinier than satin, and gloss is as reflective as it gets. All three are bathroom-approved, so it really comes down to personal preference…although, if you're asking us, glossier finishes are easier to clean.
Countertop Material
Style, color, durability, upkeep…there's a lot to consider when it comes to countertops. Natural stone (marble, granite, and others) is literally rock hard, and the variations in both color and veining make each piece unique. The downside? Most natural stone is porous so it needs a sealant and a little extra TLC.
Pro tip: Some natural stone counters are professionally sealed at the factory so confirm with the manufacturer before buying.
Quartz is an engineered stone made of mostly, well, quartz, with some other materials mixed in. Not only does it look like 100% natural stone, quartz is resistant to moisture, stains, and bacteria, making maintenance a breeze.
Something else to keep in mind is counter thickness. Thick countertops (generally more than 1¾") not only boost durability, they also elevate the look of your vanity.
Backsplash
In addition to the counter, some vanities come with a backsplash—usually made from the same countertop material. The main purpose of a backsplash is to protect the wall from water damage, but it also completes the look. If your vanity doesn't come with one, you'll want to add your own.

Some vanity photos show you a finished look, but not everything pictured is part of the package. Sinks are usually included (but not always!), whereas mirrors and faucets are often sold separately so you can flex your own styling muscle.
Pro tip: If you're getting a vanity with a countertop, check to see if it's pre-drilled with one hole or three so you buy the right kind of faucet.
Use the below checklist to know what you're getting…and what you still need to spring for.
Lighting
Pop-up Drain
P-Trap

Once you've picked your perfect vanity, it's time to accessorize. Stick with the same (or complementary) style for a cohesive look that's catalog-ready.
With loads of different designs and finishes (polished brass, brushed nickel, matte black), your faucet choice has a big impact on the overall look. Just make sure it doesn't compete with the cabinet pulls or other visible hardware.
You'll probably need a mirror or two (if you have double sinks, decide if you want one large mirror or two smaller ones). And while you're at it, soft, glowy lighting might be nice. Fancy a medicine cabinet for extra storage? What about a new built-in bathtub or stand-alone soaker to hit a full 10 on the relaxation scale?
Ah, the possibilities are endless. That's why we have oodles of ideabooks to inspire you.